Interesting thing happened this week. Someone sent me a link to a thread on a board that calls for Betta George's blood. Out-and-out hatred for the character. Which is so odd, because he really doesn't do anything remotely annoying in the series, he's basically just reacting to the shenanigans around him. Note to me: maybe don't return to that board.
Buuuuut, to balance out that negativety, the lovely Fenderlove sent me a picture. A lady Fenderlove knows (heretofore known as "Friend of Fenderlove") got a Betta George tattoo on her calf! Here it is: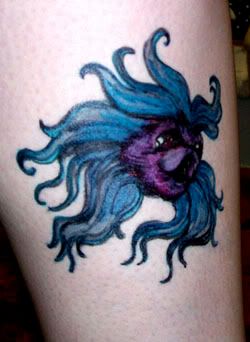 I couldn't be more happy. It means the character meant enough to someone that they wanted to have him permanently on their person. And THAT is awesome. Thank you, FOF!